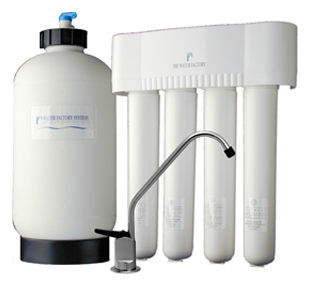 Water Factory 4 Stage Reverse Osmosis(RO)System SQC4

Click here for more information

Water Factory-4 Stage Reverse Osmosis (RO) System SQC4. For both chlorinated and non-chlorinated water. The SQC 4 Reverse Osmosis unit is backed with a 10-year Factory Warranty to be free of defects and material worksmanship.The Reverse Osmosis Membrane is warranted for 2 full years. The SQC 4 Water Factory/Cuno Reverse Osmosis System contains all necessary hardware & step by step Manual for easy installation.
·         Made and Assembled in the USA
·         Slim Line Design, more compact (space saving), less parts and connections ? allows you to easily fit it under a kitchen sink.
·         SQC patented Sanitary Quick Change cartridges provide easy replacement with no tools, spills or mess.
·         Sealed filter provides optimum protection against hand contamination to ensure high purity water.
·         Fully NSF Certified
·         10-year warranty
STAGE I: 5 Micron Sediment Pre-Filter: Removes dirt, sediment, sand and other physical particles. Change filter every 6-12 months.

STAGE II: Granulated Activated Carbon Pre-Filter: Reduces chemicals, such as chlorine, that may be in your water supply. Change filter every 6-12 months.

STAGE III: Reverse Osmosis Membrane: (22-33 gallons per day) Removes microscopic particles such as bacteria, cysts, algae, and toxic metals (arsenic, lead, mercury). Reduces 93%-98% of dissolved impurities and other contaminants in your potable water supply.   Change RO membrane every 3 years.

STAGE IV: Post Carbon Post-Filter: A polishing process that removes unwanted tastes and odors from the water.  Change filter every 12 months.

The SQC 4 Average Reduction Percentages:
Arsenic

99%

       

Nitrate

85%

Berium

98%




Nitrites

82%

Cysts

99%




Selenium

92%

Cadmium

99%




Radium 226/228

80%

Chromium (Trivalent)

94%




Turbidity

98%

Chromium (Hexavalent)

93%




Lead

99%

Dissolved Solids

96%








Fluoride

94%